An Art-Filled, Design-Forward Hotel in the Center of Florence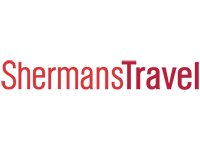 Florence is a jewel-box of Renaissance treasures surrounded by a ring of picturesque Tuscan hill towns. The Duomo is a pink, white, and green masterpiece; climb to the top of the bell tower for a magnificent view. Michelangelo's Carrara marble statue of the biblical hero David is sure to impress. The Uffizi Gallery is home to a fabulous art collection including Botticelli's ethereal Birth of Venus. The cultural immersion continues when you enter Grand Hotel Minerva. It's a showplace of art, design, and the magic of Italian creativity.
What You Need to Know
The Look
700 years ago, the building housed the monks of Santa Maria Novella, the church next door. It was later home to various noble Florentine families before being converted to a hotel in 1869. In the 1950s, Italian architect Carlo Scarpa transformed it into a symbol of modern architecture and design. Thankfully, he left original details intact, such as glorious frescos and impressive hand-painted wooden beams.
Guest rooms and common spaces are a dynamic balance of antique pieces and ancient art blended with contemporary design elements and avant-garde paintings. The hotel recently completed an extensive renovation of all guest rooms and public spaces so everything is looking spiffy. It's eye candy of the finest variety.
Each room is unique and filled with original art, some from the owner's personal collection. For a real treat, book a room with a frescoed ceiling, view of the piazza, private terrace, or garden. Marble bathrooms with walk-in showers and/or soaking tubs, wood floors, soundproofed windows, and doors and powerful air-conditioning (a rarity in Florence) are some of the many amenities.
The Vibe
Guests are warmly welcomed from the moment they walk in. If you're traveling with children, they'll be received with trinkets and lollipops.
The lobby includes multiple sitting areas, a gracious bar with vintage stools, a grand piano, and a fireplace. Oversized velvet couches invite guests to get comfy, perhaps while reading one of the international newspapers.
The onsite restaurant emphasizes fresh ingredients and takes a modern spin on classic recipes. The rooftop terrace is a hotspot for fashionable Florentines to sip their ritualistic pre-dinner aperitivo.
Who Will Love It
Travelers who fancy a central location that is both aesthetically stimulating and serene have hit the jackpot. Families enjoy genuine hospitality and special amenities for kids.
Who Might Not
Those who favor large, anonymous properties may find the personalized service overwhelming.
Best Amenity
The heated rooftop swimming pool is a seasonal stunner. Swimmers have a spectacular view of Florence and the vine-covered hills beyond.
What's Included
Bottled water, wifi, in-room coffee and tea, and twice-daily housekeeping are complimentary. Use of the panoramic pool is exclusively for hotel guests. The property offers both room-only and B&B rates.
Money Matters
Fees and Extra Costs You Should Know About
There are no resort fees or hidden extras.
How to Get a Deal
Book directly on the hotel's website and receive a 10% discount, plus a free stocked minibar. Also, be sure to check the offers page for seasonal deals and time-limited promotions.

Getting There
In the Neighborhood
Located in Piazza Santa Maria Novella adjacent to its namesake church, you can't ask for a more central location. The entire city is an open-air museum with an unmatched concentration of history and art. Act like a local and head to one of the many markets to purchase provisions for a picnic on the manicured lawns of the Boboli Gardens.
Nearest Airport
Amerigo Vespucci Airport is a 15-minute taxi ride from the hotel and will cost approximately 25 euro (about $28), with a small extra cost for each bag. The brand new Tram Line will transport passengers from the airport to the Santa Maria Novella train station in 20 minutes. It runs frequently and costs 1,50 euro (less than $2).
Nearest Public Transit
Compact Florence is best explored on foot. The Grand Hotel Minerva is just a short stroll from the Santa Maria Novella train station. The hotel is within walking distance from the SITA bus station where travelers may catch a coach to the nearby Chianti countryside for an afternoon of wine tasting.
The Bottom Line
This relaxing retreat with a fabulous in-house art collection is just steps from this city's best attractions.